Orange County Plastic Surgeon & Liposuction Expert
Dr. Arian Mowlavi (aka Dr. Laguna) – MD, FACS
If you are considering a procedure by an Orange County plastic surgeon, finding the best doctor is the most important decision you can make. By choosing Dr. Laguna (Arian Mowlavi), be assured that you've entrusted your care to one of the best and most compassionate cosmetic surgeons.
With over 15 years of experience, Dr. Laguna is a board-certified Orange County plastic surgeon who has performed over 10,000 successful cosmetic surgery procedures.
Dr. Laguna is a world-renowned body sculptor who specializes in
VASER Liposuction, Breast Augmentation, Brazilian Buttocks Lifts (BBL), Tummy Tucks,
Mommy Makeovers, Men's Surgeries, Facelifts, and Rhinoplasty.
Choosing Your Surgical Team
Arian Mowlavi M.D., a.k.a. Dr. Laguna, has dedicated his career to advancing the art of high-definition body contouring. High-definition body contouring was coined to describe the highest level of cosmetic surgery that demands specific milestones. The first milestone requires 360-degree body contouring predicated on circumferential sculpting. Circumferential sculpting ensures contour improvements are appreciated from all viewed angles. The second milestone requires detailed sculpting to unveil muscle highlights and natural shadows. This detail in sculpting manifests into dramatic yet realistic contour aesthetics. The final milestone demands remaining true to gender-specific aesthetics. For example, women strive for gentle curves in their contour lines with smooth transitions. Creating this hourglass silhouette that includes a rounded buttock and a narrowed waistline is paramount. In contrast, men should possess sharp transitions predicated on a straight lower back and flank contour juxtaposing against a squared-off buttock. By eliminating the love handle prominence, a shelf is created for men to hang their jeans on.
High-definition contouring in cosmetic surgery spans all body parts, including the face, breast, abdomen, back, buttocks, and even the limbs. Dr. Laguna is considered a pioneer in high-definition contouring and authored textbooks, published countless articles, established protocols, lectured at national meetings, and trained dozens of surgeons internationally.
These two recent publications are examples of Doctor Laguna's attention to research.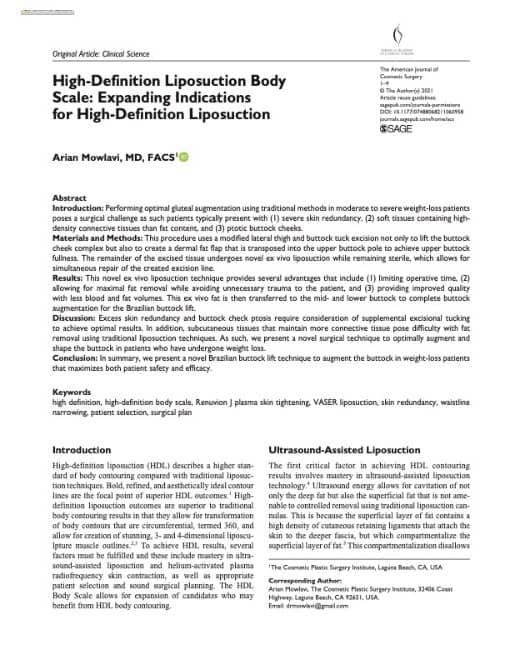 Brazilian Buttock Assessment Tool