What is explant surgery? Simply put, it means to have breast implants removed. Women decide to or need to have implants removed for a variety of reasons. We will look at the seven most common reasons.
You're not alone if you've had breast augmentation and are considering having your implants removed for health reasons or to be changed for ones that are a different size, shape, or placement.
The FDA has given the use of breast implants for breast augmentation and breast reconstruction approval. Each year, many women successfully undergo these procedures, but as with all medical devices, breast implants come with risks that you should be aware of.
Initially, required testing is performed an FDA approved breast implants to show that their effectiveness and safety can be reasonably assured. The FDA is still keeping an eye on how many patients are responding to breast implants, reviewing new safety information, and keeping in touch with patients and doctors as risks change.
Breast implants can negatively affect a woman life for a number of reasons. There are seven reasons that could lead a woman to want to have her current breast implants removed and/or replaced. Let's look at the seven most common for explant surgery.
#1 Implant Exchange
Women sometimes feel that their implants are too large or too small. In other cases, they believe that their implant size has changed for other reasons, such as aging or weight gain or loss. But the most common reason for breast implant removal (explanation) and exchange is dissatisfaction with breast size or appearance.
A breast augmentation patient who undergoes explant surgery can:
Can alter the size of their implants
Change the material or shape
Place their implants in a different location (above or below the muscle)
Have a breast lift due to address breast ptosis (sagging)
The fact that breast implants are affecting some women's quality of life is a factor in their decision to have them removed.
#2 Capsular Contraction
The body responds to the placement of breast implants by creating fibrous scar tissue around the implant. Typically, this protective capsule is supple or moderately firm.
But sometimes the capsule tightens and hardens around one or both implants, causing pain and changing the way the implant looks.
The best method of treating capsular contracture is a capsulectomy, which involves explant surgery to remove the breast implants and tissue capsule.
#3 The Age Of The Implants
Breast implants are frequently thought to have a shelf life of 15 to 20 years or more, though there is no guarantee. Although you may not need to have them removed, as your implants age, they become more likely to have various implant-related complications, like rupture, hard tissues or leaking.

Some plastic surgeons encourage patients to remove their implants and replace them with more updated ones. Depending on their age, it may be the safest and most healthy option.

Keep in mind, once you do explant surgery, you may need a breast lift to keep the proportions of your breasts youthful regardless of whether you replace the implants or not.
#4 Rotating or Shifting of Implants
Sometimes one or both breast implants rotate or move out of position, giving the breasts an unnatural look. This change may occur for a number of reasons, such as:
Trauma. If an accident or other incident impacts you hard enough, your breasts may shift.
When putting in implants, movement or rotation can happen. If the pocket made by the surgeon is too big or too small for the size of the implant.
Lifting heavy objects or engaging in strenuous exercise. If you do these activities too soon after breast augmentation, it may cause your implants to shift out of position. It's important to let your upper chest muscles loosen up so that the breast implants can naturally position themselves. It's key to follow your surgeon's after care instructions.
The implant(s) can sometimes be moved by hand by the surgeon at a later date, but most of the time surgery is needed to remove and reposition or replace them.
#5 Infection, Breast Implant Illness (BII) and Rupture
It will be necessary to have your breast implants removed if you develop health-related problems as a result of them. The top three of these complications are as follows:
Breast implant infection: Although it's uncommon, infection might happen close to or around the implant. Explant surgery is typically required since antibiotic therapy is frequently ineffective.
Breast implant illness (BII) – Following breast augmentation, some women complain of weariness, joint discomfort, brain fog, dry eyes, and other severe symptoms. Although there is no recognized medical diagnosis, BII is established by ruling out other illnesses. This condition, although it affects a relatively small number of women is very real to those that experience it. An important step in treating it is explant surgery.
Breast implant rupture: Women who have silicone implants must undergo routine MRI scans to determine if they have a potential leak. Women who have saline implants can typically detect a rupture readily because the implant deflates quickly.
Due to the difficulty in detecting silicone breast implant ruptures, imaging is required. While newer silicone implants' cohesiveness helps prevent the contents from escaping their protective capsules, ruptures of saline implants pose less of a risk to a woman's health.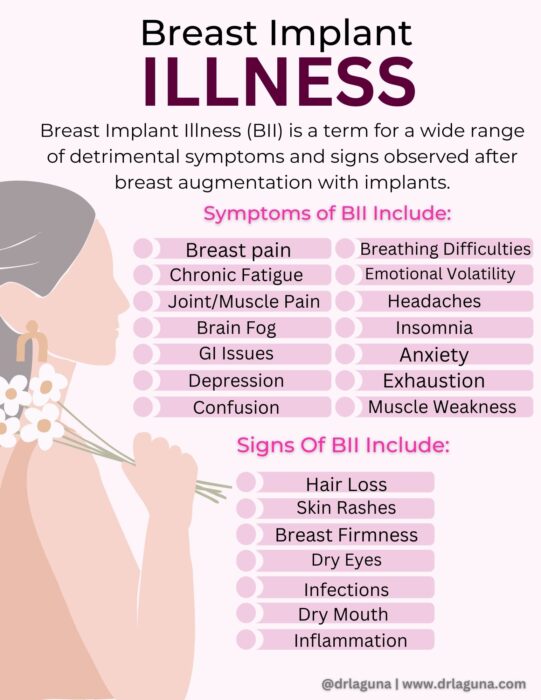 Of course, suspect implants should be checked via laboratory tests to ensure they did not have a potential to adversely affect a woman's health.
#6 Breast Cancer
Explant surgery is required if breast cancer develops. New implants can be inserted if remaining breast tissue if sufficient for breast reconstruction surgery. This is of course once all cancerous tissue has been removed, typically during a partial or full mastectomy.
It may be necessary to stretch the skin in order for it to fit the implants or to reconstruct the nipple area. This requires a plastic vs. cosmetic surgeon who has extensive training in reconstructive procedures.
It is important to note that breast implants are known to increase the incidence of the Non-Hodgkin lymphoma known as BIA-ALCL. The procedure to remove the implant and any surrounding scar tissue is successful in treating the majority of instances; however, some patients also require chemotherapy or radiation.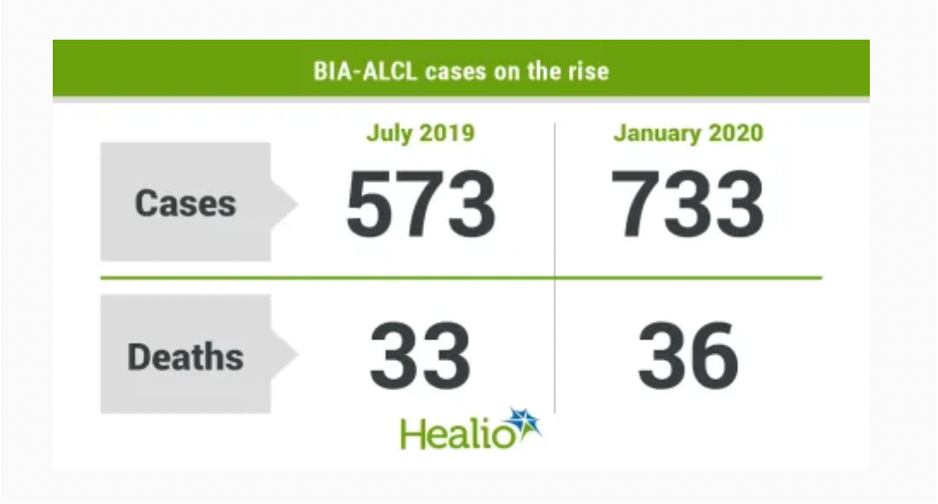 The FDA confirmed 573 cases as of July 2019, but the organization discovered 733 distinct cases of breast implant-associated anaplastic large cell lymphoma (BIA-ALCL) worldwide as of January 2020. Clearly this cancer is on the rise but clearly it is highly treatable.
#7 Implants Are No Longer Desired
Lastly, having breast implants removed can be as simple as you no longer desire them. Perhaps you would rather have a more modest or natural appearance. To restore your natural look and be sure your breasts are firm and perky, you will likely need to have a breast lift.

For patients considering liposuction, talk with your surgeon about fat transfer to the breast. Fat can add a modest increase or rounding of the breasts and look natural as well.
Is Explant Surgery A Consideration For You?
If you are thinking about explant surgery, for health or cosmetic reasons we would be happy to answer your questions and address any concerns you have. Schedule a consultation here or give our appointment coordinators a call from  7am to 9pm PST, seven days a week at 949-304-5643.