Breast Augmentation Revision Featured Patient
58 year old female following correction of severe breast deformity involving capsular contracture, implant malposition, and sagging nipple.
Breast Augmentation Revision Natrelle™
Breast Augmentation Revision Natrelle focuses on improving your breast appearance if you have previously undergone breast augmentation surgery but may be experiencing any one of the concerns below:
You wish to have larger breasts following primary augmentation.
You feel your breasts are asymmetric following primary augmentation.
You have breast implants and have noticed tightening, firmness, and distortion of your breasts.
You have noticed deflation and/or rupture of your implants following breast augmentation.
You have noticed drooping of your nipples off of your breast implants and/or mounds due to the natural aging process.
You have noticed malposition of your breast implants resulting in breast asymmetry (i.e. breast implants that have lateralized, i.e. displaced into the armpits) especially noticeable when lying on your back.
You have noticed a loss of your inframammary crease (i.e. bottoming out) with the resulting dropping of your implants below the breast mound.
Orange County breast specialist Dr. Mowlavi and his staff are dedicated to helping you to restore your natural and aesthetically pleasing breast shape that may have been distorted following a previous breast augmentation surgery. Did you know that your insurance company could help with your breast augmentation revision surgery? Please contact our office to determine if you can qualify.
Why Choose Dr. Mowlavi?
Dr. Mowlavi is an experienced plastic surgeon located in Newport Beach, Orange County. He is considered an expert in breast augmentation. He developed the Breast Augmentation Revision Natrelle™ protocol to ensure you reach your maximum potential following breast augmentation revision surgery. Breast Augmentation Revision Natrelle™ optimizes all aspects of your breast augmentation revision experience including:
Your initial confidential consultation
An anxiety-free operation
Comfortable postoperative recovery
A speedy return to full activity
Long term results
During your initial consultation, you will have the opportunity to convey exactly what your concerns are and Dr. Mowlavi will complete a thorough history and physical examination, as well as examine your breasts and take detailed notes and measurements, which will ensure your optimum results. Your breast augmentation revision examination will take into account:
Your breast mound size and any asymmetry
Your nipple-areola complex positioning and any asymmetry
Your medial cleavage fullness or lack of
Your breast implant malposition when compared to breast mound positioning
Your inframammary crease definition and any asymmetry
Your breast projection and breast to abdomen silhouette
Your nipple-areola complex to inframammary crease distance and any asymmetry
Your breast skin and soft tissue thickness;
Your pectoralis muscle tone and any asymmetry
Preoperative Planning
You are encouraged to bring in your operative note and implant ID Card if these are available to you, in order to assist Dr. Mowlavi in determining your customized breast augmentation revision surgery. You will have the opportunity to try on a full array of breast implant sizes and shapes so that you can determine the appropriate size and style of replacement implants.
As part of your Breast Augmentation Revision Natrelle™ experience, Dr. Mowlavi and your patient coordinator will spend ample time detailing to you the preoperative planning and preparation that you will require, your customized operative plan, and your postoperative recovery and expectations. These steps are critical to ensuring optimum breast augmentation revision results.
Preoperative planning for your Newport Beach Breast Augmentation Revision procedure includes:
Arranging for time off of work during your recovery period
Preparing meals and routine daily needs ahead of time
To wash with antimicrobial soap starting 4 days prior to surgery
Providing anti-anxiety medications on the night prior to as well as on the day of surgery.
Administering long-acting anesthetic medications to minimize your postoperative discomfort
Planning for a responsible adult to accompany you to and from surgery and for the first 72 hours following surgery.
Operative Measures
Breast Augmentation Revision Natrelle™ focuses on several operative measures that are taken by Newport Beach, Orange County Plastic Surgeon Dr. Mowlavi to optimize your results:
Use only FDA approved breast implants to ensure the longevity of your implants
Provide perioperative antibiotics through your IV to minimize the risk of infection
Utilize extended surgical drapes to ensure sterility throughout your case
Utilize nipple-areola shields in order to avoid contamination of your implants from endogenous bacteria that normally live within the breast glands
Use of anatomic landmarks for pectoralis muscle release in order to ensure the symmetric release of muscles and subsequent symmetry of proposed breast implants pocket position
Use of non-powdered gloves as well as irrigation of surgeon's gloves with antibiotics solution to avoid all irritants that could cause capsular contracture
Use of antibiotic solution to irrigate the surgical breast pocket and breast implants in addition to the surgeon's gloves to minimize the risk of infection
Use of minimal touch technique when handling breast implant replacements prior to implantation.
Use of sterile breast implant sizes prior to committing you to your final replacement implants.
Maintaining an array of breast implant sizes and shapes on consignment at our surgery center so that adjustments in size can be considered during your operation should unexpected intraoperative findings be made.
Placement of our specialized, proprietary Mermaid breast garment, i.e. breast band, which ensures maintenance of breast implant position and avoids implant malposition.
Postoperative Period
Finally, Orange County Breast Augmentation Revision Natrelle™ focuses on providing you a comfortable immediate postoperative period, speedy recovery, and long-lasting results by:
Use of long-lasting numbing solution instilled into your pocket prior to closing your incision lines so that you have a comfortable immediate postoperative recovery
Providing you with superior grade anesthetic medications during your surgery in order to avoid postoperative nausea and grogginess
Providing you with generous bandages and garments that won't need replacement until you dispense with them at your first postoperative visit
Educating you and train you to perform breast massage exercises, which will minimize the incidence of scar tissue formation, i.e. capsular contracture, and ensure long-term aesthetically pleasing breast shape
It is not uncommon for Breast Augmentation Revision Surgery to require a simultaneous breast lift during your breast augmentation revision. By employing a simultaneous breast lift procedure, it is possible to correct breast mound shape asymmetry, to raise the position of the breast mound, to improve medial cleavage, and to ensure an optimum nipple-areola position.
Breast augmentation cost is affected by multiple factors including implant style selection, the severity of breast deformity, the need for breast lift, and whether insurance coverage can be secured for your surgery.
We encourage you to take advantage of our complimentary consultation so that you can be provided an accurate estimate for your breast augmentation revision surgery. We also encourage you to view Dr. Mowlavi's breast augmentation revision before and after photographs so that you can appreciate the improvements that are feasible for you.
Arian Mowlavi, MD, FACS is a Board Certified Plastic and Reconstructive Surgeon who has dedicated his practice to providing prospective patients the breast shape they deserve. Breast Augmentation Revision Natrelle™ is dedicated to restoring your natural breast shape following prior breast augmentation surgery.
---
Dr. Mowlavi is Board Certified by the American Board of Plastic Surgery, Fellow of the American College of Surgeons, as well as Member of the American Society of Plastic Surgeons, Alpha Omega Alpha Honor Medical Society, and Orange County Society of Plastic Surgeons.
Dr. Mowlavi has published over 50 nationally recognized scientific articles, received several nationally distinguished awards in the field of plastic surgery, and been featured in the Los Angeles Times, Orange County Register, The Washington Post, Self, and Orange Coast magazines. Natrelle™ is a trademark of Allergan Corporation.
Book a Free Consultation for Breast Augmentation with Revision
Breast augmentation with revision is often a result of an undesirable change like a burst implant, painful capsular contraction, or it may be an implant exchange due to sizing or age of the implant. In each event, patients need a custom surgical plan to give the best possible outcome.
The only way to understand the cost of breast augmentation revision in your special case is to book a consultation. Once you and Dr. Mowlavi meet to discuss your needs and desires he is able to determine the cost.
You can meet with Doctor Mowlavi in person or virtually!
Breast Augmentation Revision Before and After Images
65-year-old female following breast augmentation revision with the removal of ruptured implants and replacement with 390cc moderate profile silicone
gel implants as well as breast lift; the patient also underwent a mini-tummy tuck procedure to complete her mommy makeover surgery.
48 year old female 2 months following bilateral breast revision surgery; breast lift and implant exchange.
See More Breast Augmentation Revision Before and After Photos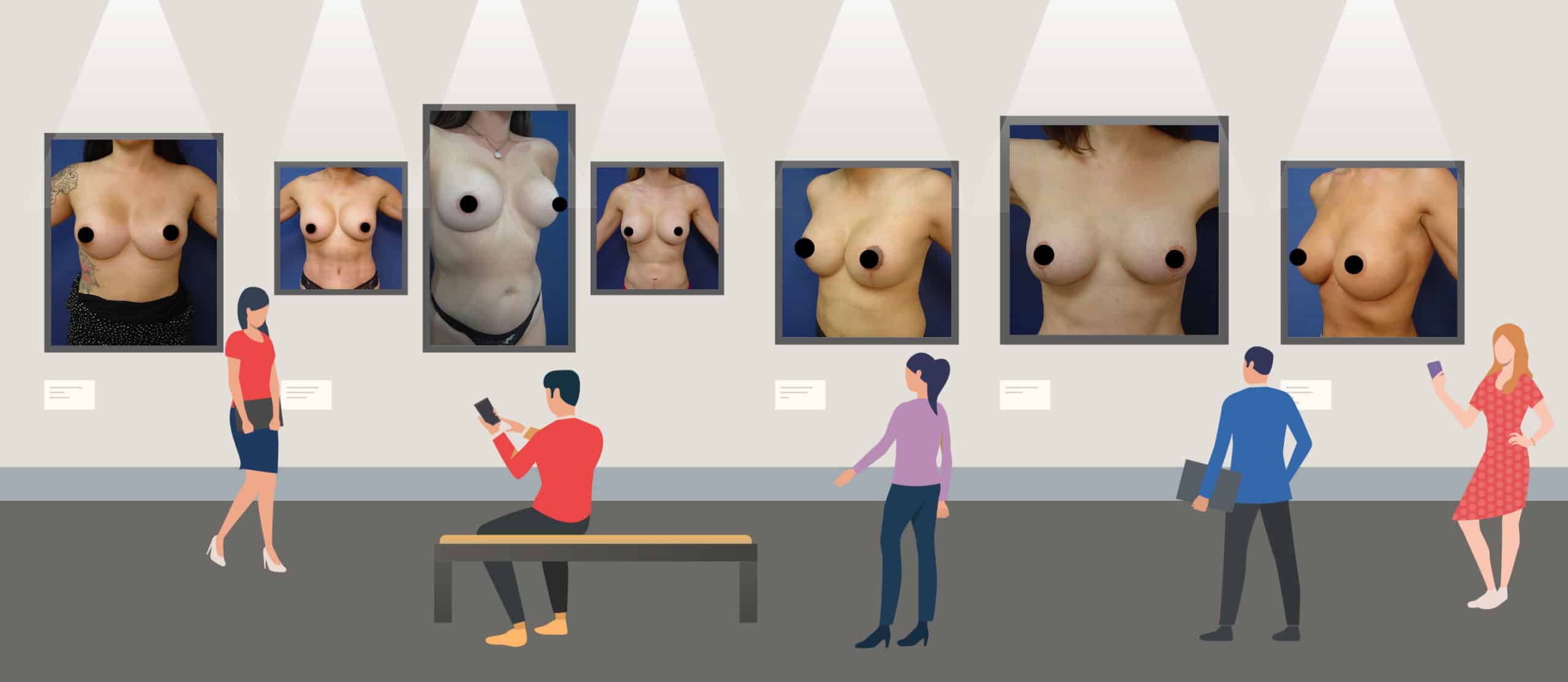 Are You Ready to Become A Masterpiece?